Smoke on the Water 2009
From CBBQAwiki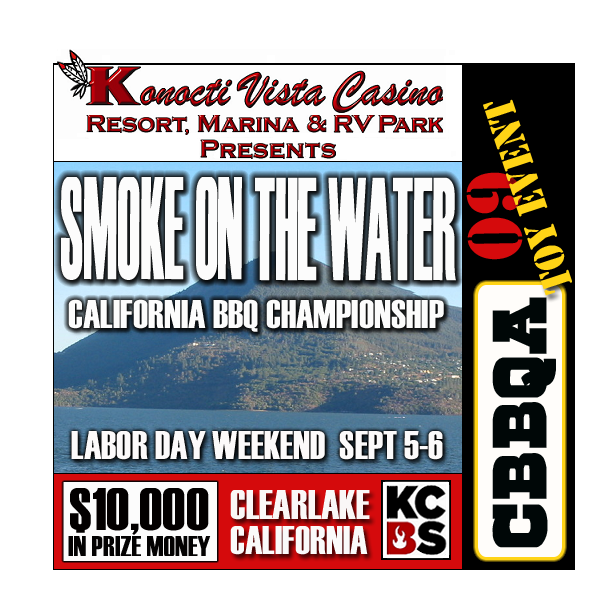 What
KCBS 4 Meat Contest
CBBQA ToY Event
Fireworks display scheduled for Sunday evening.
People's Choice
People's Choice with 50/50 split for teams.
PC starts at 1:30pm after last turn in and runs til 4:30pm.
Attendees buy PC tickets for $2 for a 2oz sample, 50% back to team*.
Teams may cook anything to serve in addtion to serving their extra competition BBQ.
Meat must be served out of a covered server (cookers work here) and kept at 140 degrees.
Serving cups, napkins and forks will be provided.

Teams are encouraged to provide a simple menu of what they have available placed on their serving tables.
(*PC Tickets turned in between 5-6pm Sunday (at Awards Ceremony room) for cash vouchers that can be immediately cashed redeemed for cash at Casino Cashier's window.)
Hotel Rooms -Discounted Rates for Teams and Judges
All registered Teams and Judges can reserve a room at the Casino Hotel (on the Lake) at a 20% off rate (while supplies last).
Call Konocti once you register to attend the contest.
1.877.577.7829
Sunday's Festivities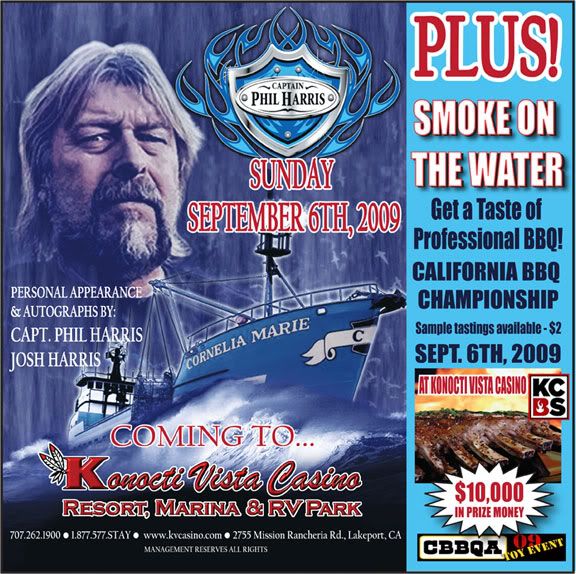 Casino Website
TV Ad
Click Here to watch (Flash Video)
Turn in Schedule
Standard KCBS Turn In Schdule
12:00 Chicken
12:30 Ribs
1:00 Pork
1:30 Brisket
When
Sept 5-6, 2009
Where
Konocti Vista Casino
Lakeport, CA (on Clearlake)
Payouts
Overall Grand Champion - $3000
Overall Reserve Champion -$1000
4 Catagories (Chicken, Ribs, Pork, and Brisket)
1st- $500
2nd-$350
3rd-$250
4th-$150
5th-$100
6th thru 10th -Plaques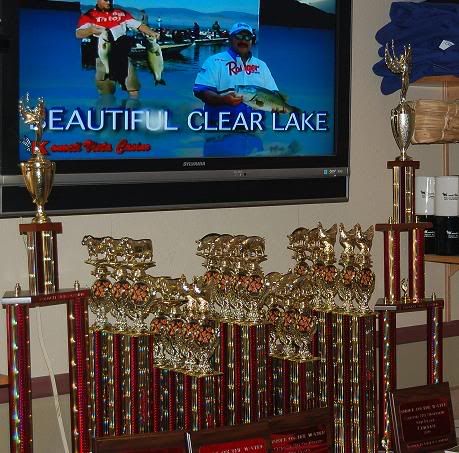 Team Application

Make checks payable to Konocti Casino.
Judge Application
Registered Teams
Mar's Mobile Grill
Smokey J's Barbeque
Dragon's Breath BBQ
Smokin Yankess
Smitty's Smoke Patrol
BLQUE Cuttin Edge BBQ
155 South BBQ
S'wine Country BBQ
Rolling Bones BBQ
Oaks Hardware BBQ
Drunk Uncles BBQ Team
Smokey Luv BBQ
Let's Q This BBQ
Swami Tommy's BBQ Experience
Bowling over Pigs
All Hogs go to Heaven
Ribs A Rockin
Ribphoria
Registered Judges
Captain Phil Harris (from Dicovery Channel's Deadliest Catch)
Josh Harris (from Discovery Channel's Deadliest Catch)
Tim James
Amberleigh Stipicevich
Paul Brown
Peggy Brown
Anna Stockel
Jim Davis
Luke Martin
Rick Scherle
Scott Kuklin
Twila Knaack
Jon Green
Aidan Robson
Trish Iriye
Melanie Wong
Glenn Jarecki
Bob Thomas
Greg Roberson
Results
Grand Champion
Smokin Yankees BBQ
Reserve Grand Champion
Let's Q This
Overall
1 Smokin Yankees
2 Let's Q This
3 BLQUE
4 Smokey Luv BBQ
5 All Hogs Go to Heaven
6 155 South Bar-B-Q
7 Smitty's Smoke Patrol
8 Ribs A Rockin
9 Oaks Hardware
10 Bowling Over Pigs
11 Rolling Bones
12 Ribphoria
13 S'wine Country BBQ
14 Smokey J's Bar-B-Que-CA
15 The Drunk Uncles
16 Dragon's Breath BBQ
17 Mar's Mobil Grill
18 Swami Tommy's BBQ
Chicken
1 Smokey Luv BBQ
2 155 South Bar-B-Q
3 Oaks Hardware
4 Smitty's Smoke Patrol
5 Let's Q This
6 S'wine Country BBQ
7 Rolling Bones
8 The Drunk Uncles
9 Ribs A Rockin
10 Smokey J's Bar-B-Que-CA
11 BLQUE
12 Bowling Over Pigs
13 Smokin Yankees
14 All Hogs Go to Heaven
15 Ribphoria
16 Mar's Mobil Grill
17 Dragon's Breath BBQ
18 Swami Tommy's BBQ
Pork Ribs
1 Smitty's Smoke Patrol
2 Smokin Yankees
3 Dragon's Breath BBQ
4 Smokey Luv BBQ
5 155 South Bar-B-Q
6 BLQUE
7 Oaks Hardware
8 Rolling Bones
9 Let's Q This
10 All Hogs Go to Heaven
11 Ribphoria
12 S'wine Country BBQ
13 The Drunk Uncles
14 Ribs A Rockin
15 Smokey J's Bar-B-Que-CA
16 Mar's Mobil Grill
17 Bowling Over Pigs
18 Swami Tommy's BBQ
Pork
1 All Hogs Go to Heaven
2 Let's Q This
3 Smokin Yankees
4 Ribs A Rockin
5 155 South Bar-B-Q
6 Rolling Bones
7 BLQUE
8 Smokey Luv BBQ
9 Mar's Mobil Grill
10 Bowling Over Pigs
11 Ribphoria
12 Smitty's Smoke Patrol
13 Dragon's Breath BBQ
14 Oaks Hardware
15 Swami Tommy's BBQ
16 The Drunk Uncles
17 S'wine Country BBQ
18 Smokey J's Bar-B-Que-CA
Brisket
1 BLQUE
2 Smokin Yankees
3 All Hogs Go to Heaven
4 Let's Q This
5 Bowling Over Pigs
6 Ribs A Rockin
7 Smokey J's Bar-B-Que-CA
8 Smokey Luv BBQ
9 155 South Bar-B-Q
10 Ribphoria
11 Oaks Hardware
12 Smitty's Smoke Patrol
13 S'wine Country BBQ
14 Mar's Mobil Grill
15 Dragon's Breath BBQ
16 The Drunk Uncles
17 Swami Tommy's BBQ
18 Rolling Bones