Ceres BBQ Challenge & Music Fest
From CBBQAwiki
WIKI UNDER CONSTRUCTION
This is an unsanctioned "Backyard" Rib Challenge.
Held at the Tuolumne River Lodge in Modesto, CA this event is part of the 1st Annual Ceres BBQ Challenge & Music Festival.
Contest Information
When: Saturday August 23rd, 2014
Where: Tuolumne River Lodge, Modesto, CA 2429 River Road, Modesto, CA 95351
Email: Renee Ledbetter at cereschamberboard@gmail.com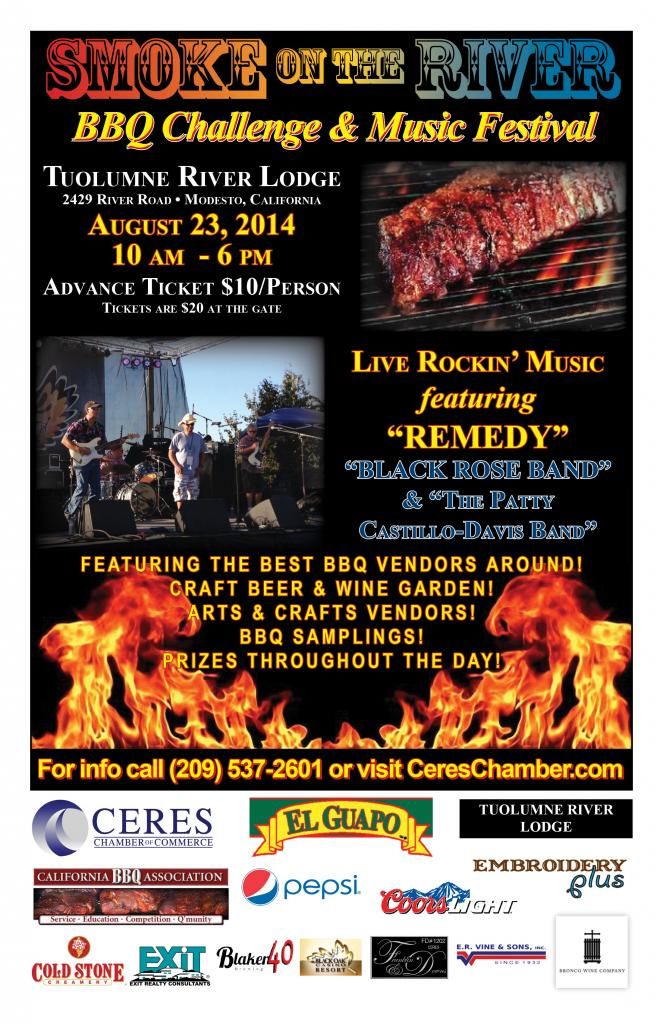 Entry Fee
Entry fee of only $100 if paid by August 15, 2014. After August 15th late entry fee of $150.
Payouts
TBD
Entry Forms
Commercial Food Vendor Application
Commercial Craft/Retail Vendor Application
ALL CONTESTANTS MUST COMPLETE TFF Application
ALL Commercial Food Vendors Must Complete this Application
Judges application pending...
Teams
Judges
Tracy Allen - Head Judge
Overall Results
Grand Champion
Reserve Grand Champion -
Pork Ribs & Chicken
1st -
2nd -
3rd -
4th -
5th -