CBBQA Member Team - The Vineyard Roasters
From CBBQAwiki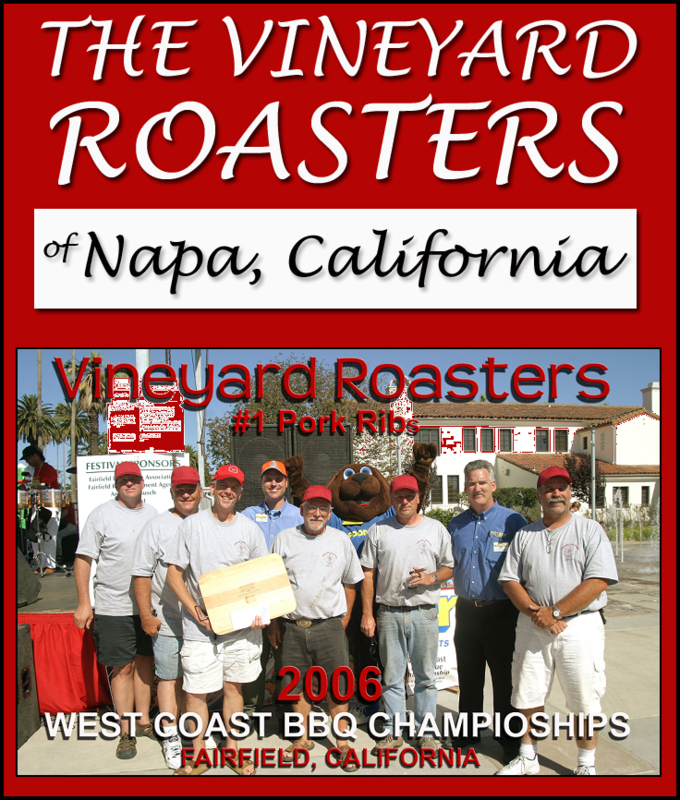 Photo courtesy of Pat Brandon
TEAM HISTORY
The Vineyard Roasters Competition BBQ Team is based out of Napa, California. Pat Burke is the founder and team captain along with Ken Shelby, Shawn Shelby, Mike Loughran, Andy Ellicock, Mickey Fromm and Dan Whitteaker. The Vineyard Roasters have competed in the West Coast Championships for the last 4 years with their Backwoods Smoker
2008 West Coast Championships the team finished with an 8th place Brisket and 4th place in the Tomato entry with Smoked Heirloom Bloody Mary's
2007 West Coast Championships the team finished with in 3rd with their Pork Butt, 7th Tri-Tip and 8th Chicken.
2006 West Coast Championships they were awarded 1st Place Pork Rib and 2nd Place Sauce.
2005 West Coast Championships they were awarded 6th Place Pork Rib, 3rd Place Seafood and 3rd Place Sauce.

Pat is also a member of a Memphis in May BBQ team based in Columbus, Mississippi, The Barnyard Roasters and has been competing nationally with that team since 2001 in events such as the National BBQ Battle in Washington DC, Memphis in May (1st place tomato sauce 2003 & 2007) and the Richmond, Virginia BBQ Battle. In July 2007, The Barnyard Roasters finished second overall in the Virginia State BBQ Championships at Galax, Virginia. The "California Connection" of Pat and Mike Loughran traveled to join the team for that win!
The Vineyard Roasters enjoy the camaraderie of the CBBQA and look forward to more future events!