Backyard on the Lake 2014
From CBBQAwiki
(Difference between revisions)
m

Line 89:
Line 89:
 

#Double Trouble Backyard BBQ - 5 layer bean dip, chocolate chip cookies

 

#Double Trouble Backyard BBQ - 5 layer bean dip, chocolate chip cookies

 

#Michael Cline - no sure yet

 

#Michael Cline - no sure yet

 
+
 

   

 

   

 

=== Turn in Schedule ===

 

=== Turn in Schedule ===
---
Revision as of 15:20, 10 February 2014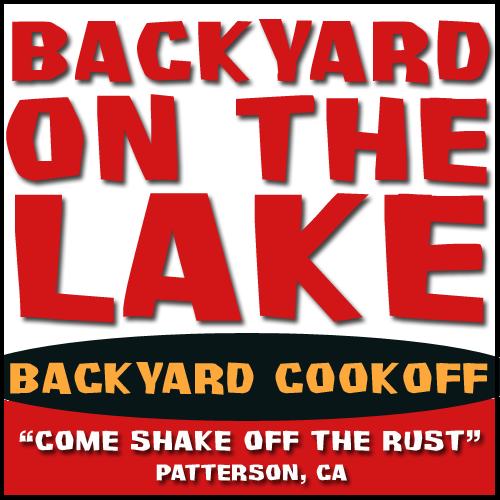 Basics
THIS PAGE STILL UNDER CONSTRUCTION
What
Backyard on the Lake '14
When
March 8, 2014
Where
Lakeside Ranch, Westley
This is a PRIVATE Lake, as this event is open to CBBQA members only full address, maps and entry code/instructions are posted in the members area of our forums. ALL DOGS MUST BE KEPT ON A LEASH - NOT RUNNING FREE
Address of the Lake is posted here: http://bit.ly/g93I2Z if you get an error using this link, check that you are a logged in (paid) CBBQA Member, before asking for help.
Entry fee
$50 contact dave[at]bartsblazinq[dot]com to make your payment and confirm your team's attendance.
We will have some costs in this event from trash to porta-potties, napkins, boxes, water, etc. We'd like to be able to cover these as part of doing this event and not have to look elsewhere for funding. Any funds left over are donated to CBBQA.
In the past we have had some prizes to give away (and these are donated), hopefully we will have these again this year - it's only fair that the participants bear the costs.
Prizes
California North State Competitor Series Qualifier
This event will be a CNSBC Competitor Series Qualifier, teams must compete in all four meats to qualify, the top two finishers will qualify to go head to head with other qualifiers at the CNSBC Finals at Feather Falls Casino in Oroville, Ca on Saturday September 20th 2014. Teams will be competing for $500 in prize money, Custom embroider CNSBC competitor series jacket and a $500 BBQ prize package, qualifying teams pay no entry and competition meat will be provided (Comp meat TBD) for more info go to the event page at: http://www.northstateqchamps.com
The Details
What are we cooking?
Cook any of the standard competition meats - chicken, pork ribs, pork shoulder or butt (for pulled pork) and brisket. If you really want to cook 1 or 4 meats, well that's ok!
All cooking MUST be done on site!
How will this work?
Judges and peers may be instructed to use knives and forks.
It is STRONGLY Recommended that ALL team members stay in the judging area as long as possible to gain the most insight as to what the judges think, not just during your teams turn in. Turn in times will be assigned so as to maximize this exposure.
The thing that's most important at this contest is the feedback the judges provide to the cooks. This comes at a sacrifice of maintaining any semblance standard turn in times, it's just not possible to do both at the same time. Once you have your taste and tenderness formulas down, you can practice your timing at home, with your own clock, even for all 4 meats. That said we still want to impress upon the cooks that timing IS very important, as such we've come up with a turn in schedule that provides 7-8 minutes per team to be judged (which we've seen is a good number). Since not all teams will be cooking all meats the judges will get some breaks and will have the option to get up and have someone take over nearly anytime.
So based on this we are going to use this turn in schedule: http://bit.ly/KCsrRo
The turn in times listed above are NOT "turn in" windows, but should be considered your assigned turn in time. Please do your best to be there 2 mins. before this time (entry in hand) to get the maximum exposure with the judges. Judges will begin on the next entry as soon as it arrives and as long as they are done with the previous entry. This way no entries are sitting for long periods while others get stuck in a traffic jam.
We have also found that this has been a good place for even experienced teams to experiment - i.e. want to try cherry cola ribs out on judges or another creative recipe that you wouldn't risk in a real contest, this is the place to give it a try.
Purpose
Fun, practice and learning about competition BBQ.
What is a 'ÄúBackyard Event'ÄĚ
It is a very informal competition where the main purpose is two-fold: (1) for experienced teams it is a chance to practice in between competitions and keep their skills well oiled; and (2) for novices, it is a chance to get the feeling of what a 'Äúreal'ÄĚ competition would be like without the expense/entry fee or pressure of a 'Äúreal'ÄĚ competition.
In a normal KCBS, PNWBA or IBCA event, a team would arrive at the event on a Friday afternoon, set up, start prepping their meats and start cooking the brisket and pork butt sometime on Friday night/early Saturday morning.
In the backyard event, more experienced teams also have the chance to help less experienced teams and offer some advice (only if requested!!). They can also help with showing how to prep a box and other presentation issues which may be something of a puzzle to anyone who has never entered a contest before. Novices also get a chance to practice timing, get a feel for the 'Äúpressure'ÄĚ of having to turn in product during a specific timeframe, and get a feel for the type of equipment and additional food items (i.e. apple juice, salt, honey) that they might need to bring to a 'Äúreal'ÄĚ competition.
There is also an educational component for our judges in the backyard event. The judges will openly be discussing your entries aloud with you and the other teams, which allow the judges to offer comments about the product judged (i.e. too salty, too spicy, burned) as well as numeric scores. This helps the judges clarify and articulate their standards while providing valuable feedback to the cooks. Don't attend if you have thin skin, you come to this to hear others opinions and that's what you will get. We do use KCBS scoring so again, novices can get a good idea of what a competition would be like -- especially with so many CBJ's showing up to judge!
Finally, one of the main purposes of the gathering is friendship and fun and sharing some Q with others who enjoy doing what we do. Each team is asked to cook a bit more than what is necessary for the 6 piece turn in box. After the competition is over, we all share our BBQ and get to taste and compare and talk trash with each other!!
Timeline
Friday Potluck
There will be a Potluck dinner Friday evening after everyone arrives. If you will be arriving Friday and would like to contribute, please list your dish below along with your name.
Pipin' Hot Smokers BBQ - Santa Maria beans
Dave and Deny Bart - Jambalaya
Double Trouble Backyard BBQ - 5 layer bean dip, chocolate chip cookies
Michael Cline - no sure yet
The Fishers - TBD
Turn in Schedule
Please see this link - http://bit.ly/KCsrRo
Competition Info
Judges, please feel free to come early and socialize. We aren't strict like a real competition and do encourage mixing.
We've reversed the turn in order so that if a team *just* wanted to do ribs and chicken they could do so without a Fri night stay over (they'd have to get to the lake pretty early Sat morning, and they'd miss out on the Fri night festivities, but it's possible). Making this a single day practice cook.
Backyard Rep
Ben "They Call me the Ringmaster" Lobenstein (pending schedule confirmation)
Teams Competing
Please list what categories you plan to cook after your name
Pipin' Hot Smokers BBQ - brisket and ribs
Double Trouble Backyard BBQ - Chicken and ribs
MAK Daddy's - Chicken, ribs, and pulled pork
Smokin' Yankee's - Chicken and pork
Rick Brandini - All four meats
Flame Thrower BBQ and Chili Co. - Chicken, ribs, and pork
Big Shot BBQ - All four meats
Red Hills Ranch - Chicken, Ribs, and Pork
Team Waiting List
Teams, remember that you can treat your meat as if you were at a KCBS competition -- which means that after 12:00 pm on Friday you can brine or marinade or whatever to your meat. Please keep the meats cold and on ice prior to putting on the pit. We want healthy judges!! We won't have ice available so you need to make sure you bring enough. There is water available and electricity. Gas stations and mini marts are ~2.5 miles, a little farther (albeit the other way) and you get SaveMart and Starbucks.
Please note there is a SaveMart a few miles down the road:
1035 Sperry Ave Patterson, CA 95363 (209) 892-5000 Open 6am-Midnight Everyday
Apparently they've opened a WallyWorld (Walmart) across the street from the aforementioned SaveMart also open the same hours.
Judges
Judges Confirmed
Jason Fisher
Lacey Fisher
Derrick Fisher
Scott Hares
Pam Hares
Pat Burke
Phil Garcia
Michael Cline

'Judges Tentative
Ric Gilbert

Judges Waiting List
Alternate Judges
Hope to see you there!
Results
Chicken
Pork Ribs
Pork
Brisket