6th Annual Vista Q Classic
From CBBQAwiki
(Difference between revisions)
Line 1:
Line 1:
−

http://smokinqclassic.com/wp-content/themes/twentyeleven/images/logo.png

+

http://.com/////.

 
 
 

== Info ==

 

== Info ==
---
Revision as of 17:01, 6 February 2014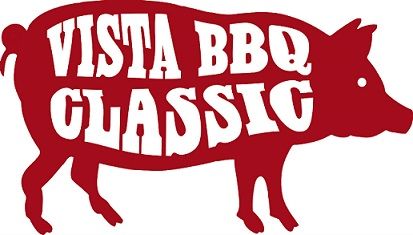 Info
KCBS State Championship, CBBQA Team of the Year Event
$12500 PRIZE FUND (with 60 paid teams or more)
$10000 PRIZE FUND (less than 60 paid teams)

Prize Break Down

GC: $2000 + free entry for 2014 contest (non-transferable) INCREASES WITH 60 TEAMS
RGC: $1500 + 1/2 entry fees for 2014 contest (non-transferable) INCREASES WITH 60 TEAMS
3rd Overall: $700
4th Overall: $600
5th Overall: $500

KCBS Categories (chicken, ribs, pork, brisket) ALL CATEGORY PRIZES INCREASE WITH 60 TEAMS

1st Place: $300
2nd Place: $225
3rd Place: $175
4th Place: $125
5th Place: $100
6th-10th Place: $50

Cash Prize Total: $10000
Date: July 25-26, 2014
The Smokin' Q Classic is an official Kansas City BBQ Society sanctioned event. Teams compete for prize money and trophies.
Hosted by When Pigs Fly BBQ and Artist Eye Events, BBQ teams descend on Historic Downtown Vista Friday afternoon to spend up to 24 hours seasoning, smoking, and grilling their choice cut of meats for competition day. Judges come from states near and far to find out whose BBQ is the best of the best. Our 2014 Teams will compete for a guaranteed $10000 of prize money, KCBS points and trophies. If team participation exceeds 60 or more teams, the Vista Q Classic will award $12500 in prize money.
CONTACT:Dale Ginos
There is something for everyone at the Vista Q Classic! Featured at the Vista Q Classic are 2 oz BBQ Tastes for purchase, a street fair, live entertainment, and a refreshing beer garden.
BBQ Meat n' Greet Date: Friday, July 25th Time: 5 pm – 8 pm
The public is invited on Friday night to a "BBQ Meat n' Greet" to meet our teams first hand and see how they cook up their delectable meats for the following day's competition. This is a great time to see what goes into competition BBQ and enjoy the downtown area on a Friday night. BBQ Tastes will not be available until Saturday starting at Noon. Featured at the "BBQ Meat n' Greet" is a local business sidewalk sale with special discounts and live music on the main stage.
Basic Details of Taste of BBQ:
Attendees purchase tickets for $3 each, 4 for $10, or 10 for $20 for a 2 oz. sample; $1.00 per ticket is awarded to your team. Event sponsor will provide taster cups, napkins and forks to all team participants. Further details will be available at the Cooks meeting.
Selling of Items other than Tasting Samples is not permitted
Entry Forms
Teams
Vista Q Classic Team Registration
$12500 PRIZE FUND with 60 paid teams
Judges
Vista Q Classic Judges Registration
JUDGES CONFIRMED
Judges Wait List
Contestants
Teams Confirmed
In no particular order -
https://www.facebook.com/pages/Smokin-Q-Classic/227930803965464
Results
Grand Champion
Reserve Grand Champion
Overall
Chicken
Pork Ribs
Pork
Brisket