5th Annual Clovis Red, Hot & Real BBQ Championship
From CBBQAwiki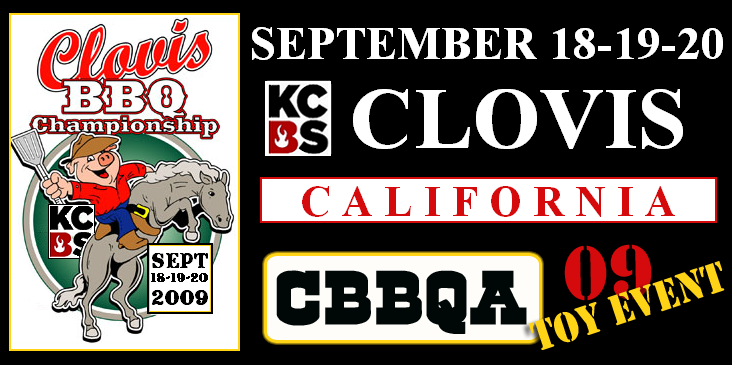 Info
Date: Sept. 18th - 20th, 2009.
Location: Clovis, Ca
Website: Red, Hot & Real BBQ Championship
Entry Forms
Click here for:APPLICATION
Contestants
Teams Confirmed
In no particular order -
Spices Smoke N Song
Smokin' Yankees
Daddy O's Smokin BBQ
Pit Stop BBQ
BBQ By Dan
BLQUE Cuttin Edge QN
Too Ashamed to Name
All Hogs Go To Heaven
The Rub Company
Brazen BBQ
Burnt by the Best
Backyard Smoke
All Sauced Up
Master of Disaster
Big O's BBQ
Men of Mesquite
TOPS BBQ
Lord of the Ribs
Checkered Past
No Smoke No Glory
Cecil's Smok'N BBQ
Hog Me Tender
Tropical Heat
Wahoo & KJ's
Smitty's Smoke Patrol
155 South Bar-B-Q
Big B's Down N Dirty
Teams Expected
Rhythm 'n QUE (Yes, we'll be there!)
Judges
Anna Stockel
Michael Markowitz
Lee Westenhiser
Chris Maliwat
Joel Erickson
Aidan Robson
Trish Iriye
Jake Piland
Mark Bellar
Rick Scherle
Nick Pack
Mary Pack
Benny Adauto
Twila Knaack
Scott Kuklin
Ben Lobenstein
Nate Stein
Gregory McMillan
Jeff Hutcherson
Steve Nagle
Pat McGee
Austin Prim
Barb Chang
Jon Green
Robert Thomas
Marcel Fortin
Dick Smith
Eddie DeLuna
Melanie Wong
Linda Cooper
Pete Fahey
Don Rhodes
Potluck
Friday Evening
This is where to sign up for the Friday evening potluck. We will be needing main dishes, sides, desserts, etc.
Results
Grand Champion
Smitty's Smoke Patrol
Reserve Grand Champion
All Hogs Go to Heaven
Overall
1 Smitty's Smoke Patrol
2 All Hogs Go to Heaven
3 Ryhthm 'n Que
4 Brazen BBQ
5 155 South BBQ
6 BBQ by Dan
7 Smokin Yankees
8 The Pit Stop BBQ
9 No Smoke No Glory
10 The Rub Company
11 Big B's Down & Dirty
12 Ribs A Rockin
13 Birds Pit Crew
14 BLQUE
15 Too Ashamed to Name
16 Seven Kinds of Smoke
17 Tropical Heat
18 Men of Mesquite
19 Daddy O's Smokin' BBQ
20 Lord of the Ribs
21 Cecil's Smokin BBQ
22 All Sauced Up
23 Burnt By The Best
24 Tops BBQ
25 Master of Disaster
26 Big O's
27 Hog Me Tender
28 Spices, Smoke & Song
29 Nice Rack BBQ
30 Backyard Smoke
31 Bowling Over Pigs
32 Checkered Past
33 Wahoo & KJ's
Chicken
1 Smitty's Smoke Patrol
2 Ryhthm 'n Que
3 BLQUE
4 No Smoke No Glory
5 Lord of the Ribs
6 Bowling Over Pigs
7 Tops BBQ
8 Brazen BBQ
9 155 South BBQ
10 BBQ by Dan
11 Ribs A Rockin
12 The Pit Stop BBQ
13 The Rub Company
14 Big B's Down & Dirty
15 Hog Me Tender
16 Smokin Yankees
17 Spices, Smoke & Song
18 All Hogs Go to Heaven
19 Too Ashamed to Name
20 Cecil's Smokin BBQ
21 Men of Mesquite
22 Burnt By The Best
23 Nice Rack BBQ
24 Big O's
25 Tropical Heat
26 Daddy O's Smokin' BBQ
27 Master of Disaster
28 Birds Pit Crew
29 Checkered Past
30 Backyard Smoke
31 Seven Kinds of Smoke
32 All Sauced Up
33 Wahoo & KJ's
Pork Ribs
1 155 South BBQ
2 Ribs A Rockin
3 Smitty's Smoke Patrol
4 The Rub Company
5 The Pit Stop BBQ
6 Brazen BBQ
7 Ryhthm 'n Que
8 Smokin Yankees
9 BLQUE
10 No Smoke No Glory
11 Big O's
12 Birds Pit Crew
13 BBQ by Dan
14 Big B's Down & Dirty
15 All Sauced Up
16 Master of Disaster
17 Lord of the Ribs
18 Cecil's Smokin BBQ
19 Tropical Heat
20 Too Ashamed to Name
21 Men of Mesquite
22 Daddy O's Smokin' BBQ
23 Nice Rack BBQ
24 Checkered Past
25 Wahoo & KJ's
26 Bowling Over Pigs
27 All Hogs Go to Heaven
28 Burnt By The Best
29 Spices, Smoke & Song
30 Seven Kinds of Smoke
31 Tops BBQ
32 Hog Me Tender
33 Backyard Smoke
Pork
1 All Hogs Go to Heaven
2 Tropical Heat
3 Ryhthm 'n Que
4 Seven Kinds of Smoke
5 BBQ by Dan
6 Too Ashamed to Name
7 Hog Me Tender
8 Smokin Yankees
9 BLQUE
10 Men of Mesquite
11 Big B's Down & Dirty
12 Smitty's Smoke Patrol
13 No Smoke No Glory
14 Ribs A Rockin
15 The Pit Stop BBQ
16 Nice Rack BBQ
17 Wahoo & KJ's
18 Cecil's Smokin BBQ
19 155 South BBQ
20 Big O's
21 The Rub Company
22 Birds Pit Crew
23 Checkered Past
24 Master of Disaster
25 Tops BBQ
26 Daddy O's Smokin' BBQ
27 Backyard Smoke
28 Spices, Smoke & Song
29 All Sauced Up
30 Burnt By The Best
31 Bowling Over Pigs
32 Lord of the Ribs
33 Brazen BBQ
Brisket
1 Brazen BBQ
2 Birds Pit Crew
3 All Hogs Go to Heaven
4 Seven Kinds of Smoke
5 Backyard Smoke
6 BBQ by Dan
7 155 South BBQ
8 Daddy O's Smokin' BBQ
9 All Sauced Up
10 Smokin Yankees
11 Burnt By The Best
12 The Pit Stop BBQ
13 The Rub Company
14 Big B's Down & Dirty
15 Ryhthm 'n Que
16 No Smoke No Glory
17 Smitty's Smoke Patrol
18 Too Ashamed to Name
19 Lord of the Ribs
20 Men of Mesquite
21 Tops BBQ
22 Master of Disaster
23 Cecil's Smokin BBQ
24 Spices, Smoke & Song
25 BLQUE
26 Wahoo & KJ's
27 Ribs A Rockin
28 Checkered Past
29 Hog Me Tender
30 Big O's
31 Tropical Heat
32 Nice Rack BBQ
33 Bowling Over Pigs