2nd Annual High Desert Music Festival
From CBBQAwiki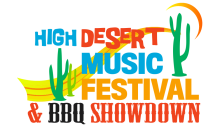 2nd Annual High Desert Music Festival & BBQ Showdown
Join us again for another year of award winning BBQ competition, music and entertainment and see Wild Willy's Smokin' Hot BBQ defend his throne. This intimate setting features comfortable indoor meeting facilities, restrooms and judging areas as well as RV hook ups for overnight lodgings. With your input and support, the HDMF and BBQ Showdown will offer you a competitive challenge within a fun and relaxed environment.
We will also be hosting a Certified Barbeque Judges class.

Link to dedicated website http://www.highdesertmusicfestival.com/BBQCompetition.htm
Info
Date - June 27-28, 2014
Place - High Desert Event Center, formally known as the Victorville Fairgrounds, in Victorville.
Prize $$ pool- in cash and prizes
Team Entry form (PDF) -

Electricity 20 amps each (Night lighting provided by grounds)
$$$
Breakdown:
GC- 1500
RGC- 1000
Each Category -- Chicken, Pork Ribs, Pork, Brisket
1st place /500
2nd place /250
3rd place /150
4th place /100
5th place /75
6th place /50
Entertainment
Country, Rock, Blues, Old School... and More.

Saturday, June 28
Tuba Force, National Athem and Patriotic Music
Vee Nelson-winner of Youth Music Program
The Doug Phillips Band-Rockin Blues to the Bone
Tessie and the Calico Cats-Country Music with a Flair
The Three Diamonds-Tribute to the Supremes
The 60 Grit Blues Band-Harp Master and
Presentation of BBQ Winners- Presented by Coors, Harley Davidson and Board of Supervisors
rock Blues GoddessLaurie Morvan
5 Tempting Men, Relive Motown's Golden Era
Sunday June 29
Destenee-Billboad Queen of Electronic Dance
Ray Brooks-Grammy Nominated Blues Master
Blue Henry's-Rock, Blues Adult-They do it all
Latin Express-Soul, R&B and a little more
Little Wille G-the original voice of Thee Midniters
artist and times are subject to change
Teams == ==
#Wild Willy's Smokin Hot BBQ Defending Champions William Wilson -Riverside
Big Poppa's Smokers Sterling Ball -Coachella
Smokin Rejects Phil Gilchrist -Chino
Mamma n'dem Angela Washington -San Bernardino
Rodeo Ray's BBQ Ray Wright -Apple Valley
C and C BBQ Carlos Barrera -Victorville
Sin City Smokers Steven Overly -Las Vegas
Pete Piggy Barn Pete Johnson -Adelanto
No Jokin Smokin Stephen McDaniel -Riverside
Pork your Chick Mark Ferretiz -Adelanto
Big Dev's Down Home BBQ Deveraux Jackson -San Diego
Funtime BBQ Benny Adauto -Whittier
All Hogs Sauced Up Steve M and Dave M -Valencia
Lady of Q Sylvia Curry -Ramona
Cool Grilling Mike Pagel Winchester
Simply Marvelous Stephan Franklin Ventura
CONFIRMED Judges