1st Annual Vista Smokin' Q Classic
From CBBQAwiki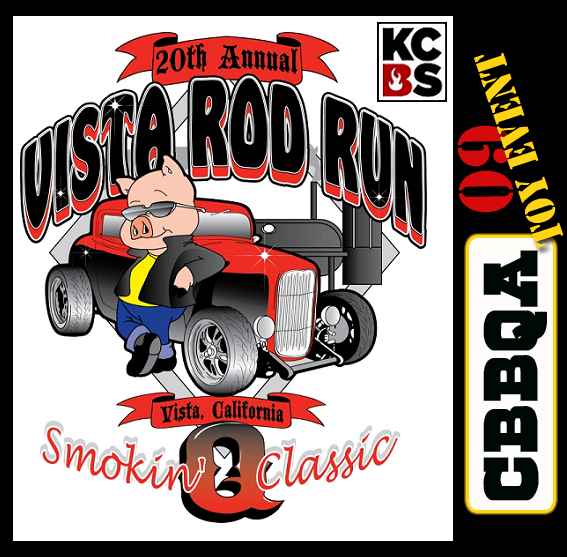 Info
What
KCBS 4 Meat Contest
CBBQA ToY Event
When
July 31 - Aug 1, 2009
Website: Link to Vista Rod Run and Smokin Q Classic
Where
Historic Downtown Main Street Vista, California
Prize Fund
$4,450 in total CASH payout Plus Trophies and Ribbons $5,000+ Total Prize Fund
Cash Breakdown for each turn-in category (Chicken, Ribs, Pork & Brisket):
1st Place $300
2nd Place $225
3rd Place $150
4th Place $75
5th Place $50
6th - 10th Place will be recognized
Total each category: $8 0 0 (x four categories)
Grand Champion $750
Reserve Grand Champion $500
Applications
Teams
Judges
Important Times
Team Check-In Time - Friday, July 31 beginning at 2:00PM
Meat Inspections - Friday, July 31 beginning at 2:00PM
Cooks Meeting - Friday, July 31 beginning at 6:30pm in the judges tent
Food Safety Meeting - Friday, July 31 7:00pm (10 minutes max)
Turn in Times - Saturday, August 1st
    -  12:00 Chicken
    -  12:30 Ribs
    -  1:00  Pork
    -  1:30  Brisket

Awards - 5:00PM
Attention All Competitors Wishing to Vend
The Health Permit/Application and Food Handler Test is no longer required, however Dale is still accepting gratuities (JK).
Items of Importance for Vendors
Each vendor booth must have a separate Hand Washing Station capable of providing a minimum of 5 gallons of 100deg water, a catch basin, hand soap in a pump (no bar soap), single use paper towels for hand drying, and a trash can for the paper towels.
Enclosed booths are no longer required. However we are limited to less than 2oz samples or 1 rib. Teams not adhering to sample sizes will be warned once and than asked to stop giving samples.
We are looking forward to helping everyone have a great time and it is our goal to make this process as simple and effortless as possible.
Health Dept Forms
Forms no longer required, however sample sizes are to be limited to no more than 2oz. or 1 rib.
Registered Teams
Here's the Rub - Edward Brisendine
Soaked in Smoke - Rich Walters
Rib Tickler BBQ - Brian Schroeder
When Pigs Fly - Logan Ginos
BLQUE - Larry Hill
Smokin' Hogs - Charles P. Ament
Smokin' Yankees - Chris Juencke
BBQ Bullies - Tim Hoffman
BBQ by Dan - Dan Cannon
Meat, Inc. - Aaron Black
All Hogs go to Heaven - Steve Maduale
Uncle Sam's Misguided Children - Del King
Tops BBQ - Robert Diaz
Rusty Barrel BBQ - Tim McDonald
Tropical Heat BBQ - Bill Keyes
Cooks-N-Ladder BBQ - Peter Lent
Brazen BBQ - John Bracamonte
Slap Yo Daddy BBQ - Harry Soo
Papa's Smokehouse BBQ - John Scott
T & H Meats and Sausage - Roberto Lopez
Blowin' Smoke - Frank Kling
Big Daddy's Q'N Crew - Tony Presgraves
NotleyQue - Gary Notley
Otis and the Bird - Jay Benedict
Rhythm N Que - Vince Carrocci
Blake's BBQ - Mike Blake
The Rib Doctor - Hayward Harris
Master of Disaster - Andy Soto
Major Woody's - Dean Olson
Judges
Marcel Fortin
John Jimenez
Patrick Murray
Benny Adauto
Mike Markowitz
Carl Schroeder
Rosie Kerr
Ben Kerr
Nate Stien
Ben Lobenstien
Sylvie Curry
Richard Wilson
Paul Steed
Rex Sell
Cynthia Sell
Michael Henson
Scott Kuklin
Twina Knaak
John Ware
Earlyn Ware
Kent Westfall
Thom Emery
Randy Jones San Diego Padres (Celebrity Judge and BBQ Aficionado)
Chef Diane Stopford
Joe Kelly
Kate Purdy
Jennifer Demille
Jamie Rhonheimer
Joseph Miles
Jack Lester
Radu Alexandru
Robert Cox
Jim Ahern
Margo Ahern
Gregory McMillian
Jeff Hutcherson
Steve Johnson
Results
Grand Champion - Tropical Heat
Reserve Grand Champion - Rhythm 'n QUE
Overall
Tropical Heat
Rhythm 'n QUE
Blake's BBQ
Rusty Barrel BBQ
Brazen BBQ
Slap Yo' Daddy BBQ
Otis and The Bird
Smokin' Yankees
All Hogs Go To Heaven
BBQ Bullies
BBQ by Dan
Papa's Smokehouse BBQ
Soaked In Smoke
Here's The Rub
Notley Que
Rubbed The Right Way
Tops BBQ
When Pigs Fly
Big Daddy's Q'N Crew
Cooks-N-Ladders BBQ
Smokin' Hogs
Master of Disaster
Rib Tickler BBQ
Meat Inc.
Uncle Sam's Misguided Children
Blowin' Smoke
T&H Prime Meats and Sausage
Chicken
BBQ by Dan
Rubbed The Right Way
Tops BBQ
Soaked In Smoke
Rhythm 'n QUE
Notley Que
Blake's BBQ
Rusty Barrel BBQ
Tropical Heat
Brazen BBQ
Smokin' Yankees
Otis and The Bird
All Hogs Go To Heaven
Papa's Smokehouse BBQ
BBQ Bullies
Slap Yo' Daddy BBQ
When Pigs Fly
Cooks-N-Ladders BBQ
Here's The Rub
Big Daddy's Q'N Crew
T&H Prime Meats and Sausage
Uncle Sam's Misguided Children
Master of Disaster
Smokin' Hogs
Meat Inc.
Blowin' Smoke
Rib Tickler BBQ
Pork Ribs
Slap Yo' Daddy BBQ
Tropical Heat
BBQ by Dan
Brazen BBQ
Blake's BBQ
Rhythm 'n QUE
BBQ Bullies
All Hogs Go To Heaven
Master of Disaster
Otis and The Bird
Meat Inc.
When Pigs Fly
Smokin' Yankees
Papa's Smokehouse BBQ
Big Daddy's Q'N Crew
Rib Tickler BBQ
Smokin' Hogs
T&H Prime Meats and Sausage
Soaked In Smoke
Here's The Rub
Rubbed The Right Way
Rusty Barrel BBQ
Cooks-N-Ladders BBQ
Tops BBQ
Uncle Sam's Misguided Children
Blowin' Smoke
Notley Que
Pork
Rusty Barrel BBQ
Slap Yo' Daddy BBQ
Brazen BBQ
Tropical Heat
Blake's BBQ
Rhythm 'n QUE
Smokin' Hogs
Master of Disaster
Here's The Rub
Blowin' Smoke
Otis and The Bird
Rib Tickler BBQ
Big Daddy's Q'N Crew
BBQ Bullies
Soaked In Smoke
Tops BBQ
All Hogs Go To Heaven
Notley Que
BBQ by Dan
Cooks-N-Ladders BBQ
When Pigs Fly
Smokin' Yankees
Papa's Smokehouse BBQ
Meat Inc.
Rubbed The Right Way
Uncle Sam's Misguided Children
T&H Prime Meats and Sausage
Brisket
Tropical Heat
Smokin' Yankees
Otis and The Bird
Rhythm 'n QUE
Rusty Barrel BBQ
All Hogs Go To Heaven
Notley Que
Here's The Rub
BBQ Bullies
Papa's Smokehouse BBQ
Blake's BBQ
Cooks-N-Ladders BBQ
Brazen BBQ
Slap Yo' Daddy BBQ
Soaked In Smoke
Uncle Sam's Misguided Children
Smokin' Hogs
Rubbed The Right Way
Rib Tickler BBQ
Tops BBQ
When Pigs Fly
Big Daddy's Q'N Crew
BBQ by Dan
Blowin' Smoke
Meat Inc.
Master of Disaster
T&H Prime Meats and Sausage